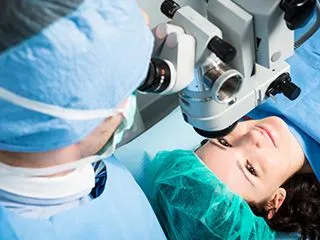 Eyeglasses have been a traditional solution for correcting vision problems for many centuries. When contact lenses arrived on the scene, they offered a new practical solution for restoring vision. Now an increasing number of eye surgery options have displaced glasses or contacts as the only solutions for healthy vision.

Eye Surgery Evolution
Advanced technology has made it possible to reshape eyes and restore vision to healthy levels for many people from all walks of life. Surgical techniques and tools have rapidly evolved over the past two decades to create procedures that are both safe and helpful.
Corrective surgeries for eyes now include everything from using lasers to reshape the cornea surface to inserting artificial lenses. These procedures correct how light entering the eye is processed – leading to much sharper vision in patients.
The state of the cornea is a determining factor in these surgeries. Thinner corneas with a high degree of myopia, for example, usually require a more invasive surgery to reshape the eye surface enough to improve vision.
Types of Eye Surgeries
Nearsighted patients are not alone in benefiting from surgeries. Farsightedness can be corrected through Conductive Keratoplasty (CK). It uses a small probe and low heat radio waves to create spots around the cornea periphery. CK steepens the cornea to give patients better near vision.

Some eye surgeries require implanting new artificial lenses to produce vision improvements. Implantable lenses similar to contact lenses can correct more severe levels of nearsightedness. These artificial lenses go permanently over the natural lens on the eye. Refractive Lens Exchange (RLE) takes it a step further and replaces the natural lens with an artificial lens of a different shape. RLE is done to correct extreme farsightedness.
Eye Surgery Considerations
Our eyes change as we age, so some corrective surgeries are not a good option for everyone. People under 18, for example, are not good candidates for laser eye surgeries because their eyes change rapidly as their bodies are growing.
Health also factors into eye surgeries. If you have diabetes or other medical conditions that impact eyesight, certain eye surgeries may pose serious risks.
Cataract Surgery
Dr. Moseley performs cataract surgery on patients who need to optimize their visual potential for activities of daily living. If you are considering cataract surgery, please call our office for an evaluation today!
A cataract is a clouding of the eye's natural lens, which lies behind the iris and the pupil.
Cataracts are the most common cause of vision loss in people over age 40 and is the principal cause of blindness in the world. In fact, there are more cases of cataracts worldwide than there are of glaucoma, macular degeneration and diabetic retinopathy combined, according to Prevent Blindness America (PBA).
Today, cataracts affect more than 22 million Americans age 40 and older. And as the U.S. population ages, more than 30 million Americans are expected to have cataracts by the year 2020, PBA says.
Types of cataracts include:
A subcapsular cataract occurs at the back of the lens. People with diabetes or those taking high doses of steroid medications have a greater risk of developing a subcapsular cataract.
A nuclear cataract forms deep in the central zone (nucleus) of the lens. Nuclear cataracts usually are associated with aging.
A cortical cataract is characterized by white, wedge-like opacities that start in the periphery of the lens and work their way to the center in a spoke-like fashion. This type of cataract occurs in the lens cortex, which is the part of the lens that surrounds the central nucleus.
Cataract Symptoms and Signs
A cataract starts out small and at first has little effect on your vision. You may notice that your vision is blurred a little, like looking through a cloudy piece of glass or viewing an impressionist painting.
A cataract may make light from the sun or a lamp seem too bright or glaring. Or you may notice when you drive at night that the oncoming headlights cause more glare than before. Colors may not appear as bright as they once did.
If you think you have a cataract, see an eye doctor for an exam to find out for sure.
Cataract Treatment
When symptoms begin to appear, you may be able to improve your vision for a while using new glasses, strong bifocals, magnification, appropriate lighting or other visual aids.
Think about surgery when your cataracts have progressed enough to seriously impair your vision and affect your daily life.
Cataract surgery is very successful in restoring vision. In fact, it is the most frequently performed surgery in the United States, with more than 3 million Americans undergoing cataract surgery each year, according to PBA.
Nine out of 10 people who have cataract surgery regain very good vision, somewhere between 20/20 and 20/40.
During surgery, the surgeon will remove your clouded lens and in most cases replace it with a clear, plastic intraocular lens (IOL).
New IOLs are being developed all the time to make the surgery less complicated for surgeons and the lenses more helpful to patients. Presbyopia-correcting IOLs potentially help you see at all distances, not just one. Another new type of IOL blocks both ultraviolet and blue light rays, which research indicates may damage the retina.

Eyewear After Cataract Surgery
In most cases, unless you choose presbyopia-correcting IOLs, you will still need reading glasses after cataract surgery. You may also need progressive lenses to correct mild residual refractive errors as well as presbyopia.
For the best vision and comfort possible with glasses prescribed after cataract surgery, ask your optician to explain the benefits of anti-reflective coating and photochromic lenses.